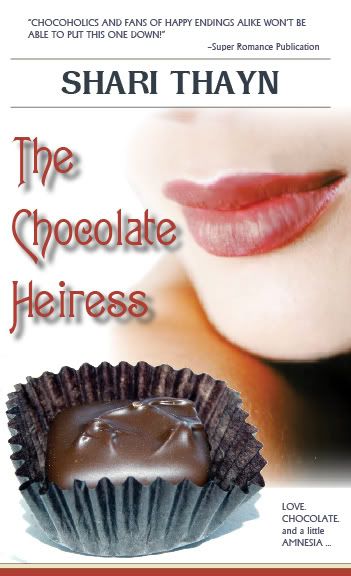 5 Stars...
The Chocolate heiress is a wonderfully fun blend of mystery,
suspense
, misunderstandings, amnesia, and above all else love...
Zoe Jones loves bright colors, short skirts and chocolate, she's also madly in love with Martin O'Neil who doesn't seem to notice just how gorgeous and sexy his late wife's best friend really is. Or so she thinks...
It's been three years since the death of his wife and during that time Martin has tried to be both mother and father to his little girl while at the same running his own business. And he's just starting to realize that most of that wouldn't be possible if not for his fun and sexy friend Zoe...
Who exactly is Zoe Jones?

Full of life. Unpredictable. Supermodel looks. Zoe is a far stretch from anybody's idea of a typical anything, and much too "big city" for the small town of Grand River. She's also developed a fondness for Martin that just might rival chocolate, and for the first time in her life she feels as if she really belongs somewhere. Well, sort of!
Once married to Zoe's old college roommate, Martin O'Neil has a little dilemma on his hands. See, Zoe is his daughter's favorite person and the one woman on the planet who makes his own heart turn flips. Is taking advantage of a case of temporary amnesia a dirty trick or an absolute necessity? Either way, he just might be the one in for one dangerously sweet surprise.
Author: Shari Thayn
ISBN: 978-1-934912-04-1
Price: $TBD paperback
Price: $TBD Ebook (PDF format)
Pages: TBD paperback

Scheduled for release July 2008.
The Chocolate Heiress is available from
from Black Lyon Publishing