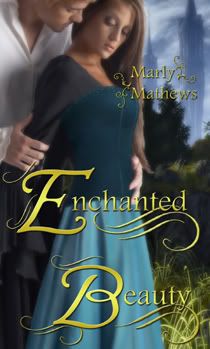 4.5 Stars.
What a charming and sweet story.
Enchanted Beauty by Marly Mathews puts a new spin on the old tale of Beauty and The Beast. With a little bit of magic and along with some truly fascinating characters and a mesmerizing plot she weaves a spell-binding story that keeps you guessing right up until the end...
This is one of those stories that I found almost impossible to put down, which can sometimes make for a very late night...
If you enjoy stories about beautiful damsels in distress,wizards, magic and ever-after then you're sure to love Enchanted Beauty...
Annabelle Hawthorne Morton hails from an ancient mystical line—even though she herself has not been endowed with the mark of magic that the magic-kind of Thaliana are born with. Despite this, she aspires for magical greatness, and while performing a spell the enchantment backfires in her face, robbing her of half her sight. But it doesn't take her long to realize that within a few months she will be completely blind. When her father enrages the local lord and he's imprisoned for his crimes, Annabelle must muster her courage and save her father from the beast's wrath.
Lord Malachi Hawthorne, Earl of Markham has been horribly disfigured during a magical battle. His sister betrayed him—and now her curse has put him into his own living hell. Believing that the outside world will revile him for his monstrous appearance, he retreats to his enchanted castle. He is determined to make Annabelle's father his indentured servant, until he meets Annabelle. He quickly decides that she is the one that might finally set him free from his living hell, and knows he must have her as his own.
Publisher New Concepts Publishing
Cover art (c) Alex DeShanks 2008
ISBN: 978-1-60394-
Download $5.99